Epson EB-735F Ultra Short Throw Projector for Classrooms
3 x Brighter Colours and Reliable Performance* – 3LCD, 3-Chip Technology. Look for both high colour brightness and high white brightness

Bright Images –

 Up to 3,600 lumens colour / white brightness

Break Through Laser Technology –

 provides up to 20,000 hours of virtually maintenance free operation, with the added benefits of higher image contrast and instant ON/OFF

Full HD display up to 120″ –

 for an optimal viewing experience and clear readability — over 2x as big as a 70″ flat panel

Ultra-wide 16:6 image –

 utilise the size of classroom to its maximum with display up to 110 inches for interactivity or multiple screen viewing

Easy to Use –

 just walk in, turn it on and start writing – no computer, software or training is required

Wireless Device Compatibility –

 wirelessly display documents, files and photos from your iPad, iPhone, Chromebook and Android mobile devices with the Epson iProjection App

Manage your display and send announcements remotely –

 easy network connectivity; software included

Versatile connectivity –

 3x HDMI supports multiple high-definition A/V devices support
*Colour brightness (colour light output) in brightest mode, measured by a third-party lab in accordance with IDMS 15.4. Colour brightness will vary depending on usage conditions. Top-selling Epson 3LCD projectors versus top-selling 1-chip DLP projectors based on NPD sales data for May 2017 – April 2018.
3LCD Technology
All Epson projectors are based on 3-chip LCD technology for amazing colour, incredible detail and solid reliability. 3LCD's 3-chip architecture dedicates an entire chip to process each primary colour – red, green and blue, continuously. Unlike single-chip technology that delivers colour sequentially, you get full-time colour. The result is vibrant, realistic images and video all delivered with 3LCD's true-to-life colour.

Up to 3x Brighter Colours with Epson Projectors*
Epson projectors use 3LCD Engines that have no colour wheel with a white segment and therefore don't force a trade-off between white and colour brightness.
In fact, Epson projectors have up to 3x Brighter Colours than their leading competitive 1-chip DLP projectors*. If you are looking for business and education projectors or 720p home entertainment projectors, know that choosing Epson projectors means up to 3x brighter colours. If you are looking for 1080p home entertainment projectors, you consistently get 2x and up to 3x Brighter Colours than competitor 1-chip DLP projectors*.
All Epson projectors list both White Brightness and Colour Brightness specifications, and all have high Colour Brightness.
*Colour brightness(colour light output) in brightest mode, measured by a third-party lab in accordance with IDMS 15.4. Colour brightness will vary depending on usage conditions. Top-selling Epson 3LCD projectors versus top-selling 1-chip DLP projectors based on NPD sales data for May 2017 – April 2018.

Laser Light Source
Experience astonishing quality and reliability with Epson's laser light source technology. The newly designed laser light source and advanced electrostatic filter offers fit and forget reliability to keep maintenance to a minimum. Additionally, the laser light source is highly reliable, eliminating worry of the light burning out during important presentations.
Big Screen

While conventional whiteboards and panels are limited to a pre-determined height and width, UST projectors have no such constraints. Set the size of the interactive area to fit the available space in your classroom.
Ultra Short Throw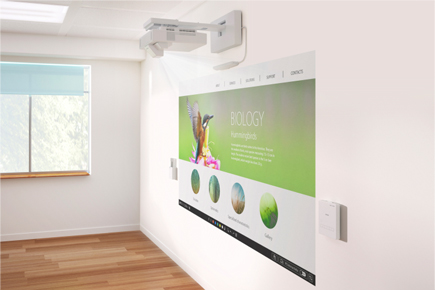 An ultra-short-throw design eliminates many of the common problems of panel, such as eye glare. With an incredibly efficient throw ratio, this model allows you to project extra-large images up to 120″ in 16:9 and 110" in a 16:6 aspect ratio.
Full HD Resolution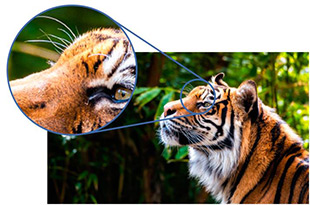 Enjoy images in Full HD resolution and crisp, sharp text without any distortion. Easily read the fine print in applications such as Excel and Word. With the addition of super resolution and detail enhancement processing, images are near cinema quality.
Home Screen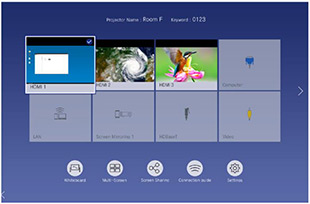 Get up and running in a snap with an intuitive, user-friendly home screen. Select the content source and easily access frequently-used functions such as the whiteboard tool, screen sharing and more.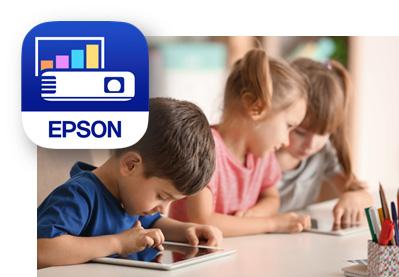 Epson iProjection App
Wirelessly display content from your iOS or Android mobile devices as well as PCs, including Chromebook with the free Epson iProjection App*.
*To use Epson iProjection, the projector must be configured on a network. Epson projectors can be networked either through the Ethernet port on the projector (check model specifications for availability) or via a wireless connection.
Image Sharing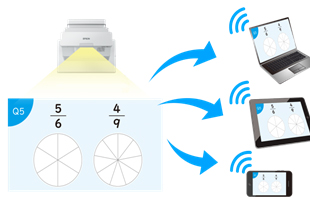 Capture projected images and share them with wirelessly connected devices using the Epson iProjection App.
Moderator Function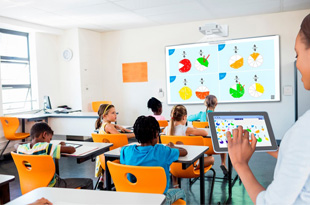 Use the moderator function in the Epson iProjection App** to select a single moderator. Only the moderator can control the projected content.
**All the devices need to be wirelessly connected to the projector with Epson iProjection App. Moderator control is only available on Windows, macOS, iOS and Android devices.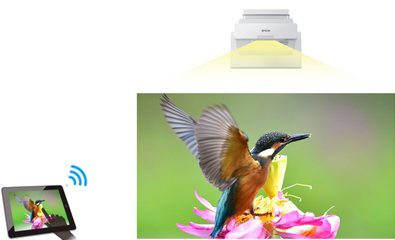 Miracast
Sharing information in the classroom has been made easier with Mircast*. Teachers can project their laptop or tablet screens without a cable connection and ensure high-resolution content can be viewed effortlessly
*Laptops or mobile devices must support Miracast.
VERSATILE DISPLAY OPTIONS
Large screen for video conferencing
You no longer need a flat-panel display for your videoconferencing needs. Connect your videoconferencing system to the EB-735F and display an image as large as 120 inches.
Simultaneously display your additional content such as a webpage or presentation on one side of screen and videoconference, using the Split Screen feature.
Flexible display options and sizes
Deliver impactful sessions with a display of up to 120 inches (16:9 aspect). Additionally, the EB-735F is capable of displaying an ultra-wide 16:6 aspect image* that is 110 inches.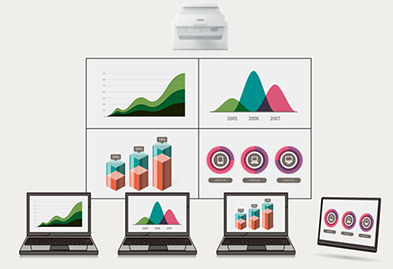 Epson's Multi-PC utility with Moderator device management software allows you to simultaneously display up to four devices on the screen over network (wired or wireless), with even more users connected to the same interactive display on Standby Mode. The moderator can drag and drop participants into or out of the four quadrants and control which device screens to display. Encourage and control collaboration; it's perfect for comparing ideas and content side by side
Control box – ELPCB03
Pair up the EB-735F with the ELPCB03 to easily turn power on/off, freely control AV mute and speaker volume, and select a device you want to project to a screen.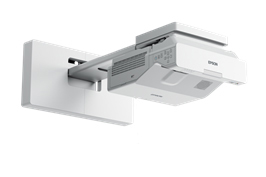 The ELPMB62 wall mount can save time and cost by simplifying the installation process of the EB-735F. Designed for image stability and easy adjustment, ensuring the EB-735F can be up and running within a matter of moments.
The ELPMB62 wall mount is ready to integrate with a Mini PC inside the base plate, enabling powerful yet simple setup.
Epson Projector Management software
Manage multiple projectors with one device from a remote site. Epson Projector Management software allows you to check the status of multiple projectors through the network. You can also turn projectors on/off or set them to A/V mute simply by pressing the icon on this software. You can also schedule and execute firmware updates to connected projectors.